The Best Steak in Charlotte is at your House Tonight
You love steak. You love to grill steaks, cook them in a cast iron pan, reverse sear, sous vide steaks, hot sear then finish in the oven or whatever is your go-to way to make the best steak. Show us how good and creative you are and you could win a lot of steaks from the Carolina Meat & Fish Co in Ballantyne.
The rules are simple, but first, meet our butchers. The amazing people at Meats by Linz. It's quite possibly the finest steak you'll ever eat. Look at who their customers are, the finest steak houses and restaurants in America. Places like the Chicago Chop House, or Harry & Izzy's, Ditka's, Michael Jordan's Steak House, Gibson's, the Breakers of Palm Beach, FL and more. 
Meats by Linz uses 100% Black Angus cattle. We are true believers that the Angus breed is the best breed. We know better than anyone the importance of consistency and quality when it comes to the end product. Genetics of this caliber allow us to continue to provide some of the finest restaurants across the world with consistently well marbled beef.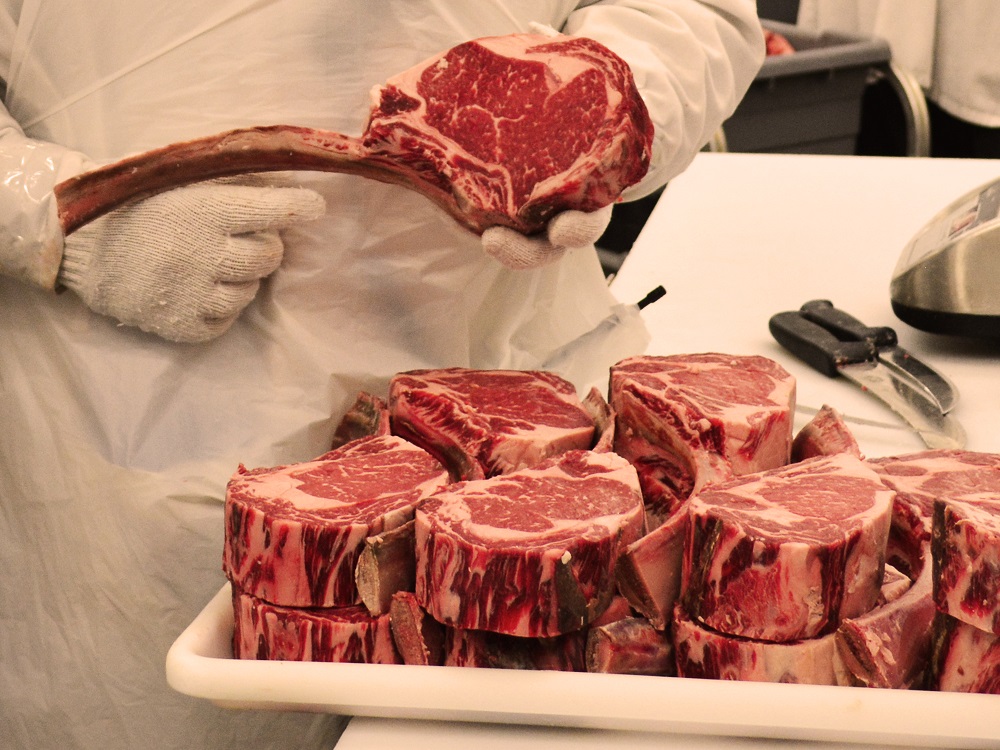 Z rules… The Best Steak in Charlotte
Start with a Meats by Linz steak in it's retail vacuum pack, or wet aging wrap, and show it in your picture or video. 
Create and cook the finest steak in the world (a meats by Linz steak) and take an awesome creative photo or video of it. This is important, you must show the Meats by Linz wrap in your "before picture". Their name and logo are on all their steak wraps. 
Upload your pictures and or video to either Facebook

and/or

Instagram and "tag" Meatsbylinz AND carolinameatandfishco in your post. 

Use the hashtags "#meatsbylinz" and "#carolinameatandfishco" in your post

Competition expires and winners named on March 20th, 2020
1st Place prize = 2 free Meats by Linz steaks for four weeks straight
2nd Place = 2 free Meats by Linz steaks for two weeks straight
3rd Place = 2 free Meats by Linz steaks for a week
Every entry will get a 15% off coupon to be used exclusively on Meat by Linz steaks, The Best Steak in Charlotte at the Carolina Meat & Fish Co in Ballantyne. 
James Beard Award Winning Chefs use Meats by Linz, the Best Steak Houses in America use Meats by Linz, why aren't you trying Meats by Linz steaks in your house tonight? 
Void where prohibited. This is not associated with Instagram or Facebook. No purchase necessary from the Carolina Meat & Fish Co, must comply with all state and local laws and ordinances. Open to all 50 states. Winning steaks must be picked up at the market, or  may be shipped to you, shipping and handling is extra and paid by recipient. Winners allow the use of their pictures and or videos for the marketing rights to the Carolina Meat & Fish Co and/or Meats by Linz.
Winners will be judged on creativity, use of tagging and hashtags and who use of the Meats by Linz packaging in their "pre" pictures or video. No purchase necessary and competitors may come in the market and take photos of the packaging for free. Competition begins Thursday February 20, 2020 at 11AM est. Competition end and winners will be announced Friday March 20th, 2020 at 1PM est.
Winning steaks are what is available at the time of picking up, no special orders or bone-in Tomahawks and under 16 ounces.