GRILLED LIME MARINATED MAHI MAHI
We hope you aren't getting tired of grilled recipes because here is another one — Grilled Lime Marinated Mahi Mahi. We weren't kidding when we said we grill as many meals as we can. It's just too darn hot to turn on the oven or the stove.  One thing that we do, though, is keep reminding ourselves that winter is much worse. Our happy thought on these hot days is that we're not suffering through the cold, wet, snowy, winter weather.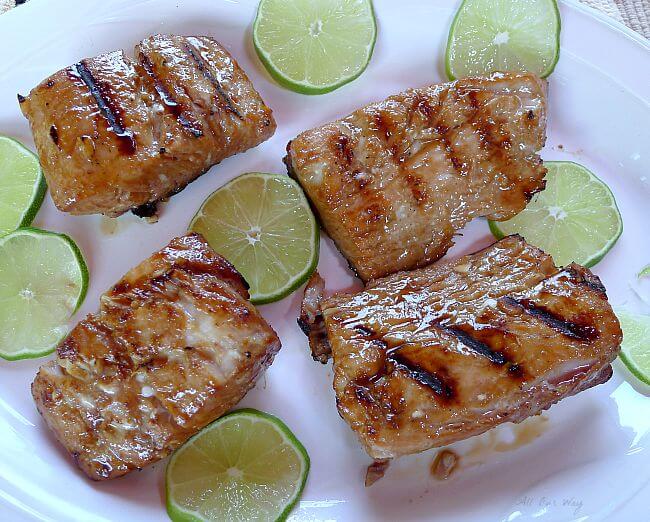 LIME ADDS A FRESH TASTE TO THE MARINADE
Sometimes we seem to turn away from heavy meals and embrace quick, light recipes such as this grilled lime marinated mahi-mahi. Limes and lemons are hot weather fruit, don't you think? They not only smell fresh and tangy, but they taste that way too.
MAHI MAHI PERFECT FISH FOR MARINATING
Mahi mahi is a great fish for grilling. It stands up well to a marinade, and it doesn't fall apart on the grill. Next time you're looking to add a little excitement to your seafood, consider marinating the seafood in our tangy lime marinade and let us know how you like it.
Ingredients
16 

ounces

 

of Mahi Mahi fillets
Marinade
2

 

Tablespoons

 

extra-virgin olive oil

2

 

Tablespoons

 

fresh ginger

1

 

Tablespoon

 

minced garlic

2

 

Tablespoon

 

lime juice

1/4

 

cup

 

soy sauce

2

 

Tablespoons

 

honey

2

 

Tablespoons

 

dry red wine

1/8

 

teaspoon

 

cayenne or q.b. quanto basta

 

as much as you wish

Salt and pepper

 

optional
Instructions
Whisk all of the marinade ingredients together.

Put the Mahi Mahi in a glass dish or a zip lock bag and pour the marinade over the fish. Make sure that the marinade is evenly distributed over the seafood. Refrigerate and occasionally redistribute the marinade over the seafood.

Marinate 4 hours.

Spray the grill with vegetable spray to prevent sticking then preheat the grill to 475 F.

Take the Mahi Mahi out of the marinade and put on a rack to let some of the marinade drain.

Place the Mahi Mahi on the grill skin side down. Grill for 4 minutes then turn over and grill for an additional 2 to 4 minutes, depending on how thick the steaks are.

Remove from grill and place on platter. Serve hot.